The answer to your fashionable clinicwear.
100% Danish Design & Production.
Clinic clothes of the highest quality and comfort.
At style2work we have made the best effort to create the perfect clinic clothes. Among a broad share of practitioners we have thoroughly researched and charted the many different work positions and work situations, and based on the results of these we have developed our clinic clothes.
Experience clinic clothes that accommodates your many demanding work positions.
At style2work we create clinic clothes that unite a professional appearance with the highest level of comfort. Our fabric Active STRETCH contains 4% elastane that provides you all the elasticity your clinic clothes, that your work positions demand of you.
Limited time
Get 40% off of each third item.
Mix'n Match your new clinic wear from our entire store.
Our Katelyn, Kathy and Kelly tunics are also available in a Tall variant with added length and available in ten beautiful colors.
Dressed to work
Create your own personal, professional and trendy look across various styles and colors.
Shop Blushing Nude
Comfort and wellness also on the hot days.
Our clinic clothes is breathable – our fabric Active STRETCH absorbs heat and leads the moisture away from the body, so you can feel fresh even on a hot day. Clinic clothes from style2work is easy tom maintain, doesn't wrinkle, will endure almost all chemicals and remains crease-free, even after a long and hot work day.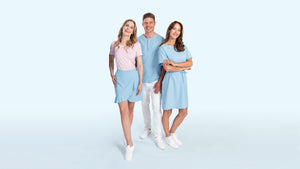 Mix'n Match
the look of your team.
You don't have to look the same to appear a team.
Shop Softly Blue
Mix & Match your own look or team look.
You don't necessarily have to be alike to appear as a team. Use the collection across styles and colors. Mix & Match forward to your own unique "team look", without necessarily compromising your personal style. With only a few styles you can create variations and achieve new, exciting expressions in your professional clinic clothing.
A refreshing amount of new thinking.
New times. New clinic wear.
You should be pleased to open your wardrobe in the morning and think: "What do I feel like wearing today". Also when it comes to professional clinic clothes. The best of two worlds should be united, and the list requirements to fit, freedom of movement, comfort an fashion was long. The result was a collection of clinic clothes with more fashion, and many different colors and styles that can be worn alone, but also combined into new and exciting looks.